The Volvo name, in the automotive context, is often synonymous with subtle elegance, and this has been the case for many years. After the company has been passed around through various different ownerships, one thing has remained constant – the brand's philosophy. With a strong focus on safety and comfort, their latest lineup of cars is definitely their best work yet. We are living in the peak age of Volvo. As the crossover wars continue among all major automakers, we spent some time with this 2021 Volvo XC60 T8 eAWD to determine if this mid-sized luxury hauler has what it takes to rule the kingdom.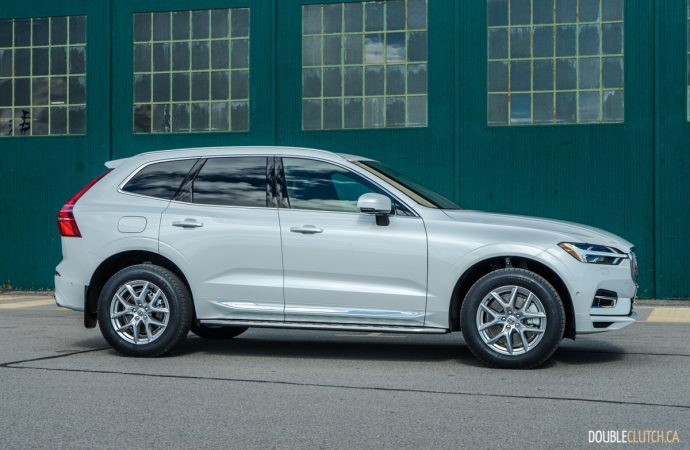 The XC60 plays in a battlefield with some serious juggernauts. The BMW X3 (reviewed here) and Mercedes-Benz GLC are strong contenders, and Japanese entries like the Acura RDX and Lexus NX are just as good. The Volvo wins on its elegant, sharp styling and exquisite interior. Its lines are clean and crisp, with the Thor's Hammer signature headlights flanking the front end. Our test vehicle was riding on a winter wheel setup, but would otherwise be riding on 21-inch rubber.
Inside, every single current Volvo feels virtually the same, but this isn't a bad thing by any means. The XC60 gets the same beautifully designed cabin that's only rivaled by the latest from Mercedes-Benz, and the ergonomics are top notch – exactly what we expect from the Swedes. The excellent Maroon Brown Nappa Leather seats are lovely and provide the right amount of support, though we found the massage feature a bit weaker and less relieving than the setup in the last XC90 we tested. Rear seat legroom is also sufficient for two reasonably-sized adults, and the cargo area doesn't feel compromised at all due to the twin-engine setup.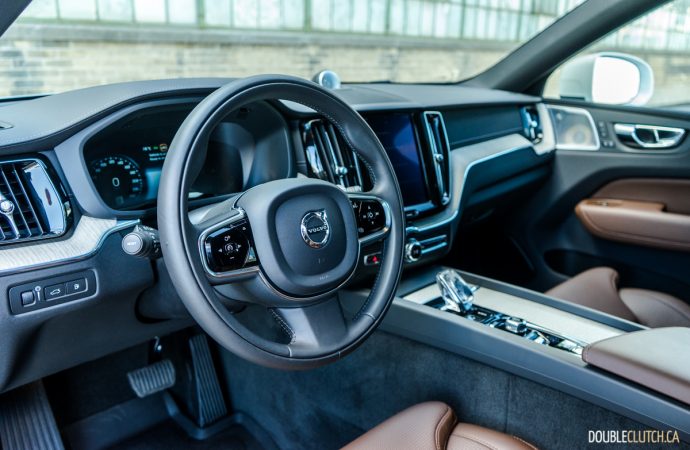 Onto the powertrain – Volvo has done things interestingly here. Throughout their current offerings, they only offer one motor, a 2.0-liter turbocharged inline four-cylinder. In T5 setups, that's all it gets. Step up to a T6, and you get both supercharging as well as turbocharging. The T8 tested here takes the T6 and slaps an electric motor on, making it a plug-in hybrid. Output here is 400 combined horsepower, and 472 lb-ft. of torque between 2,200 and 5,400RPM.
It's a seamless and fairly smooth powerplant, but the 400 horsepower and oodles of torque are offset by the fact that it still very obviously sounds like a four-cylinder. Considering the competition from Mercedes and BMW offer sixes at this price point, the Volvo lags behind a bit in the engine department. But fire-breathing horsepower has never been what Volvo is about – while the Polestar Engineered tune on our tester supposedly adds 15 horsepower, there's also a full "Polestar Engineered" model (reviewed here) that's, well, not the same thing but is confusingly given the same name.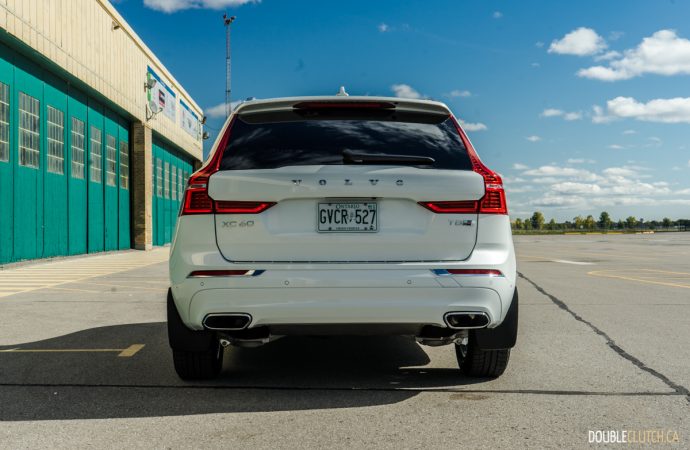 On the plug-in hybrid side of things, we observed a couple of cycles with 40 to 50 kilometers of electric-only range. It's possible to save this range for a later time, or use the XC60 as a regular hybrid as well. Once the battery has depleted, it automatically functions as a regular hybrid anyhow, and does deliver decent efficiency. While your mileage will vary based on how often it's plugged in, and trip length, we observed 8.5L/100km over a 1,000km road trip into cottage country. The T8 powertrain does require premium 91-octane fuel, and curiously, in order to fill up the tank, an automatic pressurizing process needs to take place.
As active driver assist technology continues to develop, Volvo's Pilot Assist suite is one of the best, providing true semi-autonomous driving in certain settings. The active lane keeping assist will keep the vehicle smoothly on its path without bouncing between markings, and the adaptive cruise control with traffic jam assist is remarkably relaxing. It does require a hand to be kept on the steering wheel and by no means is it touted as being fully autonomous, but it's another step in the inevitable direction.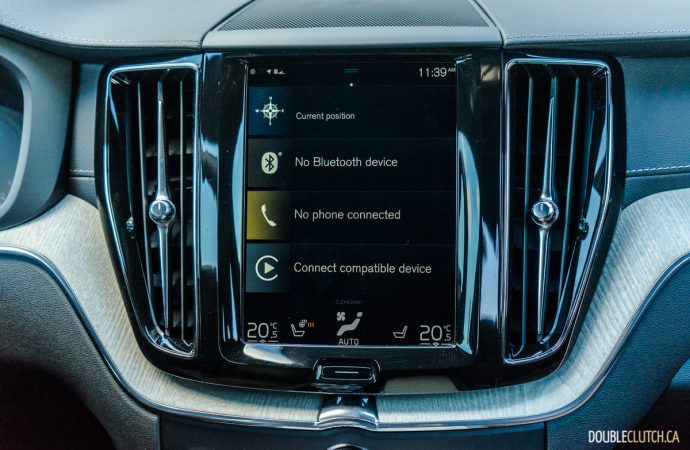 Back to the interior – the 12.3-inch portrait-oriented Sensus infotainment system is still fairly good, but has been outshined by the latest versions of BMW iDrive and Mercedes' MBUX. Sensus is not the quickest to respond and we experienced plenty of intermittent connectivity issues with the Apple CarPlay and Bluetooth. The lovely Bowers and Wilkins sound system makes up for the infotainment's shortcomings, as it's by far the best current automotive sound application available.
Volvo Cars Canada prices the XC60 T8 at $73,850 to start, and it comes pretty stacked at that price point. Our test vehicle also was equipped with the Premium Package at $1,950 (heated rear seats, steering wheel, power folding mirrors, Intellisafe Surround), the Premium Plus Package at $2,600 (360 degree camera, Park Assist Pilot, heads-up display), and massaging front seats at $1,300. Additionally, the four-corner air suspension is $2,300, and the sensational Bowers and Wilkins surround sound system another $3,750. The total comes to $86,950, which is about in line with the BMW X3 M40i  and Mercedes-AMG GLC 43 (reviewed here).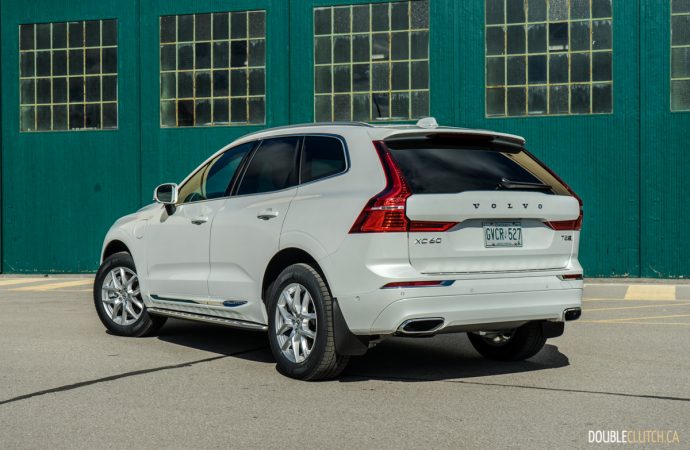 In terms of rivals, it's worth noting that the X3 now in plug-in hybrid form as well, along with the Audi Q5. Neither of these hybrids offer as much power or performance as the Volvo, and frankly, they're not as comfortable either. On the other hand, the Volvo is more money than both, and while you definitely do get what you pay for, nearly $90,000 is a serious amount of dough to hand over for what's effectively a four-cylinder crossover.
The 2021 Volvo XC60 T8 eAWD is an excellent choice, offering young families or empty nesters a comfortable, safe vehicle packed with technology. It's certainly an out-of-the-box choice, steering away from the typical entries in the segment, but does deliver an excellent driving experience and top-notch interior appointments. Its ride quality with the optional air suspension is also best in segment, and the combination of positive traits it offers is enough to hopefully sway more buyers into their local Volvo retailer.
See Also:
2020 Volvo XC60 T8 Polestar Engineered
2020 Mercedes-AMG GLC 63 S 4MATIC+