Compared to Americans, Canadians have a habit of buying fully-jammed small cars over more basic larger cars. It's a good habit, as it means less waste and more toys to play with. Volkswagen knows this well and as a result, has offered Canada a pretty sweet deal. It's called the 2021 Volkswagen Jetta GLI, it comes loaded with kit and it may just be the compact sedan to have.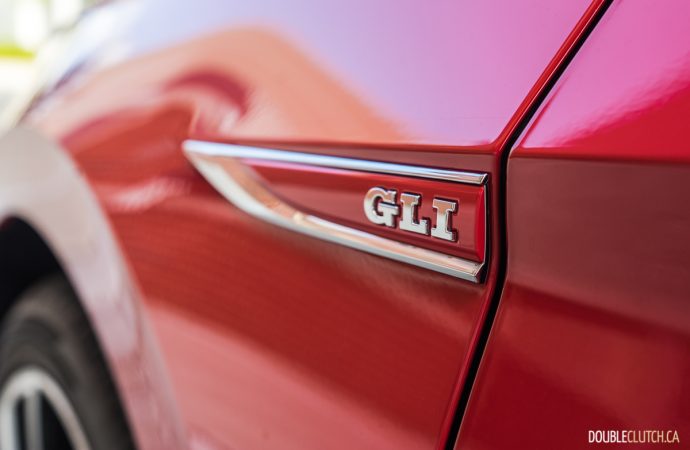 Upon cursory first glance, the Jetta GLI is rather quite dignified. A conventional three-box sedan roofline sets the tone for the rest of the styling, notably the sharply creased beltline that's as crisp as a freshly-ironed shirt. Longitudinal, well-defined character lines down the body sides do a good job of visually breaking up the metal while also adding visual length. Not that the Jetta GLI needs any extra length, as it's 1.6 inches longer than a Civic sedan and almost two and a half inches longer than a Corolla (reviewed here).
Set into each front fender is a GLI emblem, subtly contoured in a way that makes it seem as classy as cufflinks. Up front, the grille and LED headlights are tied together with the trademark GLI red line of trim while the lower fascia is subtly muscular with c-shaped bezels flanking the outer faux grilles and really anchoring the design to the ground. Subtle is the key operator here, and that's a good thing as the Jetta GLI appears significantly less juvenile than a Civic Si or Veloster Turbo (reviewed here).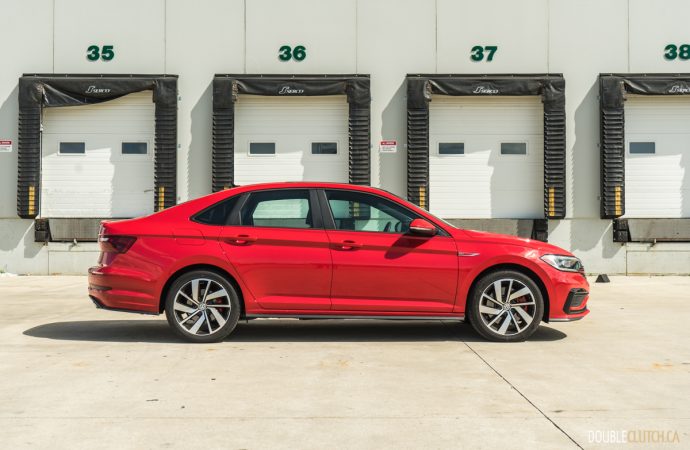 Step inside the Jetta GLI and the amount of kit on hand is astonishing, especially for the price tag. While black leather is the only interior colour option in Canada, it comes accented with heaps of red stitching, a look simultaneously comforting and exciting. The rear seats are heated and the front seats are both heated and ventilated, a welcome surprise in this segment. Perhaps even more notable are the surprisingly soft head restraints that are actually comfortable on the dome.
A bewilderingly configurable digital gauge cluster and surprisingly crisp ambient lighting also come standard, both adopting a red glow when the GLI is put in sport mode. Taking eyes off the main interior surfaces and looking up reveals an enormous rail-to-rail sunroof that offers a proper view of the stars, although it eschews the traditional Volkswagen sunroof dial for a traditional, arguably inferior rocker-style control. Another curious sunroof decision is the use of a mesh shade. While easy to operate due to its lightness, it doesn't do a fantastic job of actually blocking the sun.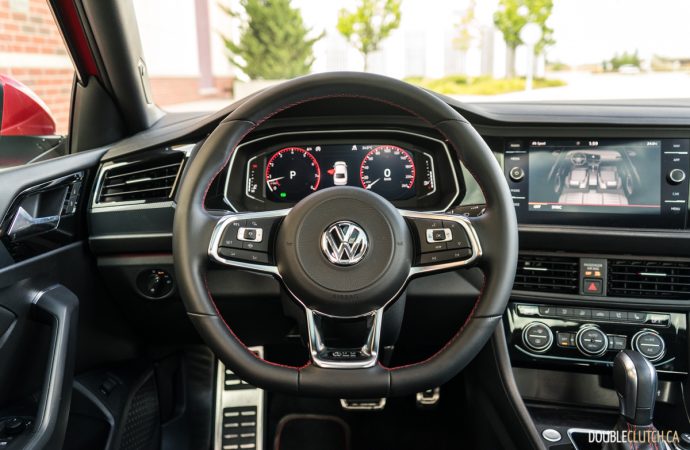 On the centre console is an infotainment system that's quite respectable. Packing an eight-inch touchscreen, Apple CarPlay and Android Auto, it's a crisp unit with minimal lag, solid black levels and the inclusion of actual volume and tuning knobs. Audio comes courtesy of a Beats brand eight-speaker system that's quite V-shaped. Staging and clarity is acceptable for the segment, although more punch would be nice. Kudos to Volkswagen for including three-band EQ adjustment, as the two-band standard of the segment lacks the mid-range adjustability seen in the GLI.
Powering the 2021 Jetta GLI is a 2.0-litre four-banger that's turbocharged to the tune of 228 horsepower and 258 lb-ft. of torque. It's hitched to either a six-speed manual transmission or our test car's optional seven-speed DSG dual-clutch automatic. While there is a faint pause of lag below 2,000 RPM, dipping into the throttle under most conditions elicits a soaring, robust wave of torque. It's a great powertrain that's flexible and responsive and punchy enough to be fun, but that's to be expected. What may not be quite as expected is the Jetta GLI's handling.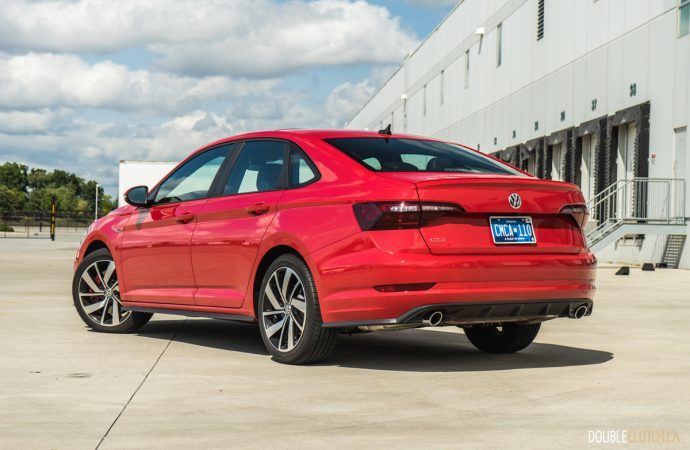 This car uses a mix of software wizardry and high-grade hardware to deliver the precision of an X-Acto knife and the ruthless confidence of a Zweihander. Put simply, mash the throttle at any speed out of any apex and the GLI powers out with surprising speed and composure despite the disappointing 540-treadwear Hankooks fitted as standard tires. A large share of the credit for that corner-exit composure goes to the standard electromechanical limited-slip differential with supplemental brake-based fakey torque vectoring but the chassis itself also deserves proper praise.
With independent suspension at all four corners, adaptive dampers and meaty sway bars, the Jetta GLI turns in with a neutral balance and exhibits excellent wheel control under cornering load. As for steering, the GLI adopts a variable-ratio rack that tightens up in sport mode. The steering both quickens and weights-up naturally under demanding conditions, and it's quick at 2.1 turns lock-to-lock. Also worth mentioning are the excellent brakes. They're truly massive for a small car, 13.4-inch discs up front and 11.8-inch discs out back. They offer firm, consistent pedal feel and great stopping force.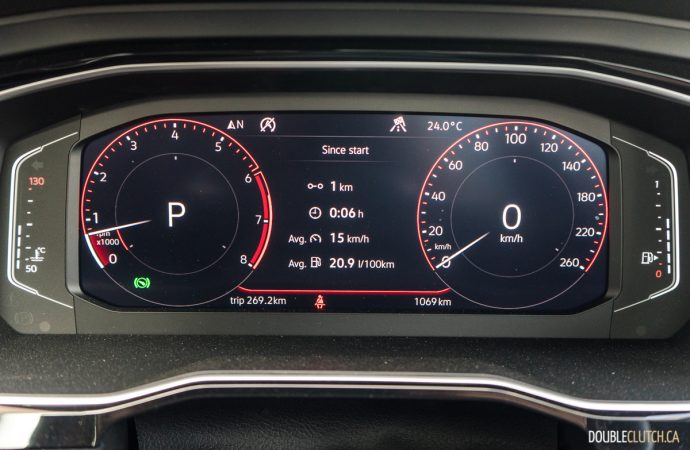 Step away from performance driving and the Jetta GLI's sheer bandwidth reveals itself to be positively impressive. Nothing about it comes across as too immature, too starchy, too coarse, too heavy or too vulgar, even in the harshest drive mode. Hit the drive mode button to put the GLI in comfort mode and the dampers relax, the piped-in faux intake noise fades away into silence and the whole car becomes as docile as any eco-sensible, middle-class mainstream compact car.
And thanks to the DSG gearbox and driver assist suite fitted to our test car, it's not just comfortable to putt about in but downright easy to drive. Outward visibility is very good with remarkably small blind spots. While the blind-spot monitoring system is quite alert, most competent drivers won't find it necessary as shoulder-check visibility is just that clear. Lane-keep assist is about mid-pack but the adaptive cruise control is truly excellent, allowing for smooth operation even when a Toronto-spec following distance is set.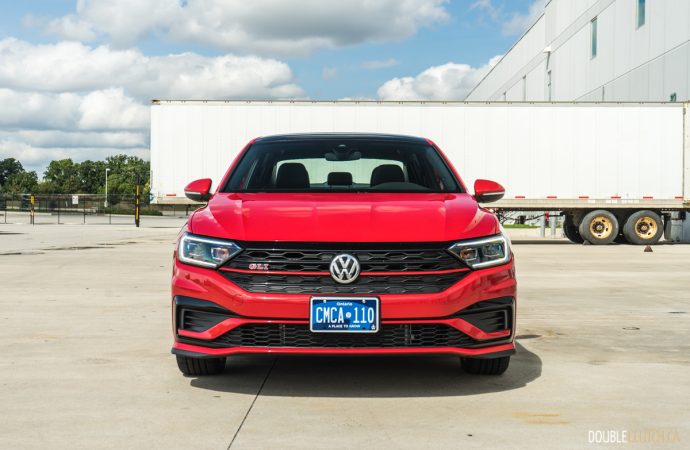 Tested fuel economy was a bit of a mixed bag. A desire to stay in boost in order to explore the Jetta GLI's sporting talents resulted in nine litres per hundred kilometres, a noticeable tick off from the government's combined rating of 8.4L/100km. However, some individual highway trips saw consumption in the high 6.0L/100km range, besting the government's highway rating by a tick. Your mileage may vary indeed.
So what does all this excellence cost? Our 2021 Volkswagen Jetta GLI came equipped with the only two options offered, the DSG gearbox and the Advanced Driver Assistance Systems package, for a total price of just $34,350. Ditch those options and Volkswagen is more than happy to drop the price to $31,945. A kitted-out German sports sedan in the same price bracket as a Honda Civic Si or a well-equipped Mazda3 GT? It's genuinely hard to go wrong with that.
See Also:
2019 Hyundai Elantra GT N-Line