This is a world-class luxury SUV with available electrification and opulent styling. However, the old adage of "never buy a first-year model" seemed to be a sticking point. Our first test of the Grand Touring plug-in hybrid was marred by some unfortunate issues, mostly pertaining to build quality. However, Lincoln has been working to address quality concerns so we thought it would be prudent to experience a 2021 Lincoln Aviator Grand Touring to see how it stacks up.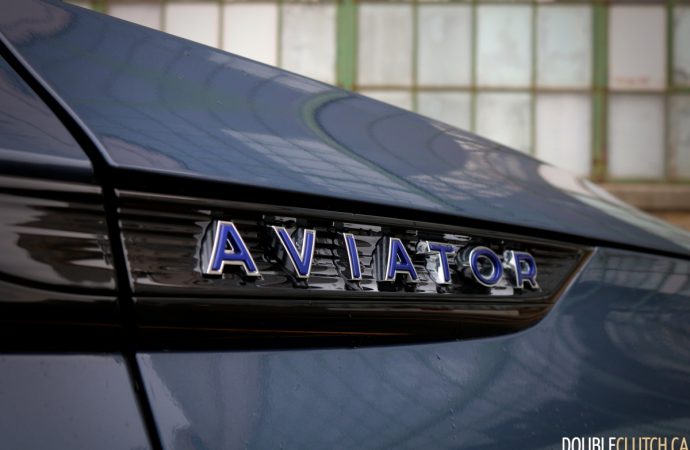 It's hard to deny that the Aviator Grand Touring is handsome. While still a big SUV, its proportions along with blacked-out pillars make it look relatively low and sleek. The long dash-to-axle ratio emphasizes its rear-drive-based platform while allowing the charging port room to be mounted on the left front fender. Up front, an available illuminated emblem set into a cascading chrome grille leads the way in a display of brash opulence.
Along the side, plastic cladding is kept to a tasteful minimum and out back, the full-width clear-lens LED tail lamp looks really clean and futuristic. Curiously, the Grand Touring rides on smaller 19-inch wheels to the regular model's 20-inch units. While they don't have the same visual impact as the 20s, the taller tire sidewalls contribute to comfort by improving ride quality substantially.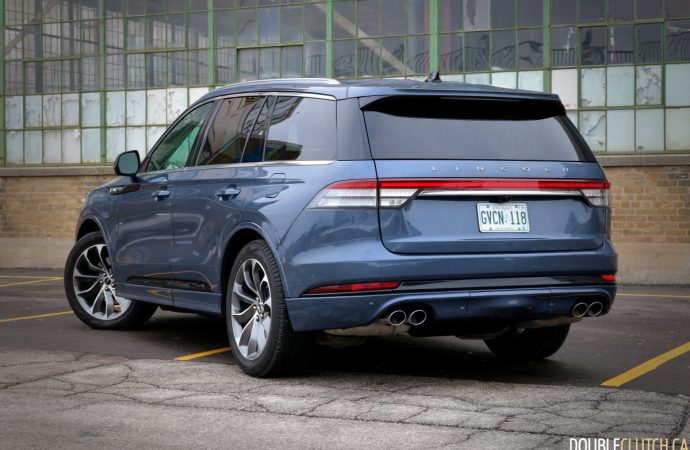 On the inside, the Aviator Grand Touring is a wonderful departure from the staid interiors typically seen in luxury SUVs. Forget minimalism, maximalism is the word of the day here. Seemingly every knob, switch and bezel is adorned in chrome, the electronic shifter buttons are styled like piano keys, the plastics are lovely and soft, and there are enough buttons for just about everything without having to hunt through the infotainment.
Our test car came with a grey interior that Lincoln calls Medium Slate. Despite grey interiors being tricky to pull off without looking like the inside of a 1992 Dodge Colt, the Bridge of Weir leather in the Aviator has a rich satin finish and is as soft as anything from Germany or England. Instead of wood veneer or garish carbon-fibre trim, Lincoln has used a mix of engine-turned aluminum and pinstriped satin black trim to create a very jet-age feel, harkening back to the opulent American luxury cars of the 1950s.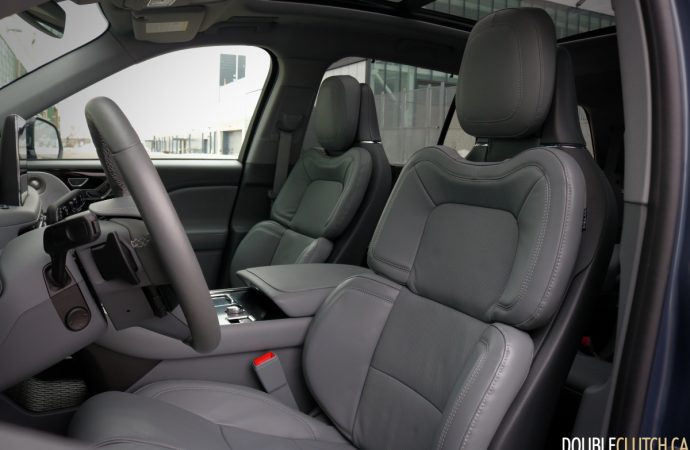 Lincoln makes a great fuss about their 30-way Perfect Position seats and for good reason. They are extremely comfortable and the massage function is phenomenal. Combine that with powerful seat heaters and effective seat cooling and they're just about the most comfortable seats in the mid-size luxury SUV segment.
As for tech, the Aviator comes equipped with a 10.1-inch touchscreen infotainment system that's crisp, intuitive and within easy reach. While it looks somewhat similar to the interface found on Fords, the same can't be said for the digital instrument cluster with bespoke graphics. Speaking of bespoke, the warning chimes on the Aviator are recorded by the Detroit Symphony Orchestra and are significantly less grating than the digital tones found in other cars. Often it's the little things that really drive luxury home.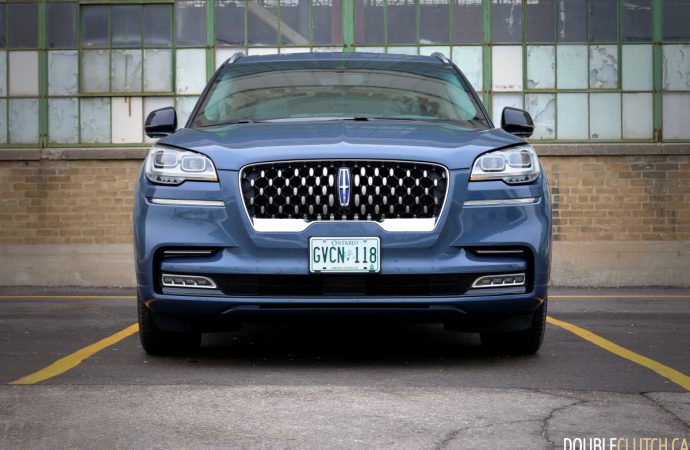 Other neat touches include four-zone automatic climate control with a HEPA filter, electronic door handles, heated wiper blades and heated and ventilated second-row seats which are rather unusual for the segment and a welcome amenity. In terms of sound, our tester came equipped with the top-shelf Revel Ultima audio system with 28 speakers and a 20-channel amplifier. Three different staging modes are available – stereo, audience and on-stage. The latter is the most immersive mode, using the full staging capability of the 20-channel amplifier to truly surround occupants in their favourite music.
Remember a time when luxury and performance were separate concepts? The Lincoln Aviator harkens back to that by eschewing sportiness and chasing sumptuousness. The effect this has on the way it drives is profound. Potholes, tar snakes and frost heaves are completely ironed-out, as if driving down a road made from velour. The resolution of the hi-def parking cameras is absolutely unreal and the only real road noise to speak of is the hushed murmur from the tires over broken pavement. It's a bubble of calm in the chaos of traffic and a cut above the Germans in terms of comfort.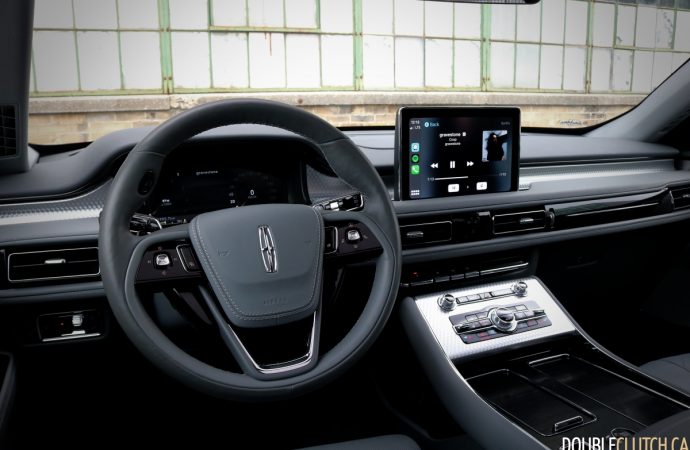 Powering the Aviator Grand Touring is a rather ingenious plug-in hybrid powertrain. There's a 3.0-litre twin-turbocharged V6 mated to a 10-speed automatic gearbox with an electric motor sandwiched in there powered by a 13.6-kWh battery. This whole combination churns out an impressive 494 horsepower and 630 lb-ft. of torque. However, don't think for a moment that the Aviator Grand Touring is some sort of high-performance machine. Instead it offers more of a tidal wave of torque that's as smooth as it is relentless.
The use of a traditional automatic gearbox rather than a continuously variable transmission means that there is no uncouth disconnect between RPMs and rate of forward motion. It also means that the Aviator Grand Touring can tow 5,600-pounds, which is huge for a plug-in hybrid vehicle.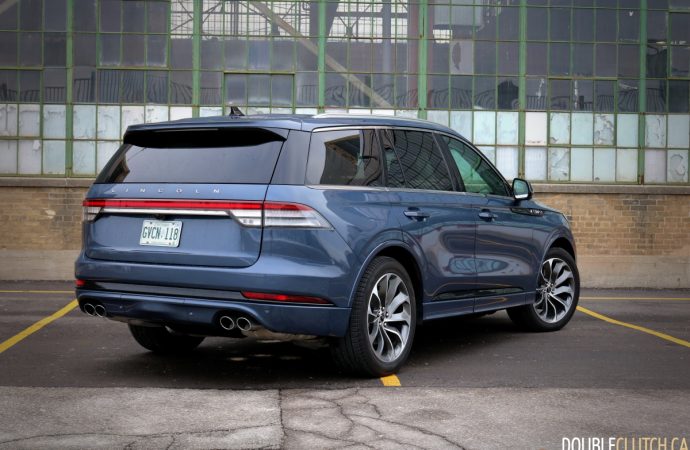 Of course the other side of the coin is fuel economy. Because the Aviator Grand Touring is a plug-in hybrid, it will go up to 33 kilometres without using any dinosaur juice at all. Even better, the PHEV system improves fuel economy over the regular model even if it never gets plugged in. Rated combined economy on gasoline only is 10.3L/100km combined which is a 13.4 percent improvement over the regular Aviator 3.0T. Plug the Aviator Grand Touring in and the rated economy jumps to 4.2Le/100km; not bad at all for a three-ton SUV.
Is the Grand Touring worth the cost over a regular non-electrified Aviator? Well, our test car was only 11.2 percent more expensive than a comparably-equipped Aviator Reserve and even if the Grand Touring isn't plugged in, the fuel economy improvements outweigh the price premium. Moreover, the ability to use HOV lanes is very nice and the smaller wheels model ride better, so there are genuine quality of life benefits. We averaged 12L/100km but heavy idle time, not charging it and winter gas weighed this number down. Even still, it was more efficient than the rated figure for a standard gasoline model.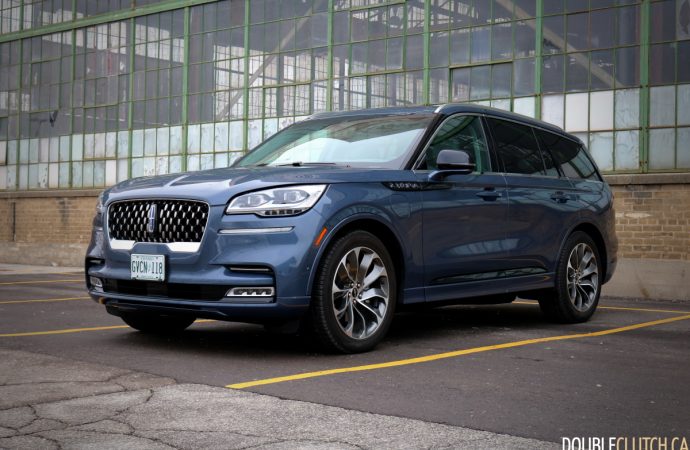 In terms of competition, the 2021 Lincoln Aviator Grand Touring faces off against the Volvo XC90 as that's the only other three-row luxury PHEV on the market. The Lincoln is much better value and much quicker, but the Volvo is more efficient. It seems like match one goes to the Lincoln. For those who only need five seats though, the Range Rover Sport P400e and the BMW X5 45e enter the ring. The Range Rover only offers four cylinders and is extremely expensive but the BMW has the power, prestige, toys and value to play ball with the Aviator.
See Also:
2020 Volvo XC90 T8 Inscription